TERMINOLOGY
TERMINOLOGY MANAGEMENT PLATFORM
Terminology and multilingualism have been one of the main focuses of the Athena Project. Linked Heritage as a legacy of this project also deals with terminology and bring theory to practice applying the recommendations given in the Athena Project. Linked Heritage as a direct follow-up of these recommendations on terminology and multilingualism is currently working on the development of a Terminology Management Platform (TMP). This platform will allow any cultural institution to register, SKOSify and manage its terminology in a collaborative way. This Terminology Management Platform will provide a network of multilingual and cross-domain terminologies.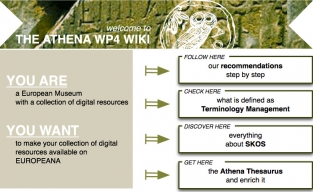 This has been developped in the framework of the Athena project (eContent Plus program), workpackage 4 and is now used within the Linked Heritage project (ICT-PSP program), workpackage 3. Linked Heritage is a Best Practice network within the ICT-PSP funding Program.Enhancing the aggregation of new content and its retrievability through Europeana are the main objectives of this project. Linked Heritage is a legacy of the Athena project. Athena was also part of the constellation of projects contributing to Europeana. It started in November 2008 and ended in April 2011. Its general aim was to help the integration of European museums' digital resources into the Europeana portal. Among the different workpackages (WP) of the Athena project, the WP4 was dedicated to the terminology management with two strongfocuses on multilingualism and SKOS (Simplified Knowledge Organisation System).
This Wiki aims in priority at people working in European museums, experts or non-experts in Information Engineering and/or Linguistics, who have an interest on terminology and multilingualism or just want to have a general information on that topic.
Cultural institutions who are contributing to Europeana or taking part to European projects may want:
Navigation
Michael Culture Association | Brussels-Paris-Roma | Tél : +33 (0) 6 31 13 35 74 | contact@michael-culture.eu
By continuing your visit to this site, you accept the use of cookies to enable you to share content via share buttons of social networks and to allow us to measure the audience. For more information and set cookies
For more information you can consult the CNIL website at the following address : http://www.cnil.fr/vos-droits/vos-traces/les-cookies/nIf you do not want to allow us to place these cookies : click here
x