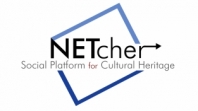 TITLE: NETCHER - NETwork and Social platform for Cultural Heritage Enhancing and Rebuilding
Duration: 2018-2020
Programme: Horizon 2020
CONTEXT
The last decades have witnessed a variety of initiatives, promoted by a diverse set of actors engaged in the protection of endangered cultural heritage and in countering illicit trade, aimed at providing methods and approaches to address looting and trafficking. NETCHER seeks to address the complex challenge of harmonizing and bringing together these worthy, but often disconnected initiatives through a participative approach that will result in the setting-up of a structured network (Collaborative Platform) drawing together a broad range of players such as international and umbrella organizations, national authorities and public policy makers, researchers, NGOs as well as public and private organizations.

GENERAL AIM
As a collaborative platform, NETCHER proposes a participative model for the process of research exploring, formulation and implementation of relevant policies and practicesin Europe to serve these ends.
AIMS
Stimulate support, interaction and participation between all cultural heritage preservation stakeholders
Help the consortium to gather all stakeholders related to cultural heritage preservation and to fight against illicit trafficking of cultural goods, and make them join the network.
Promote the project and its outputs at European and International level, toward general public, specialized communities and policy makers.
Create sustainability beyond the termination of the project.
Foster cross-fertilization.
Enlarge the benefits of the project towards communities and projects other than those of NETCHER.

MAIN ACTIVITIES
Worldwide state-of-play
thematic workshops
Network construction
Communities education
Routes for international cooperation
Dissemination and awareness
PARTNERS: 7 partners from 5 countries
HiSoMA-CNRS laboratory, coordinator, France
Università Ca' Foscari Venezia and Fondazione Ca' Foscari, Italy
Deutsches Archäologisches Institut – DAI, Germany
Ecole Nationale Supérieure de la Police – ENSP et Université de Technologie de Troyes, France
Capital High Tech SARL, France
Michael Culture, Belgium
Interarts, Spain
Website: https://netcher.eu/