INNOVATIVE SERVICES FOR THE GENERAL PUBLIC
Working Group Innovative services for the general public | Presentation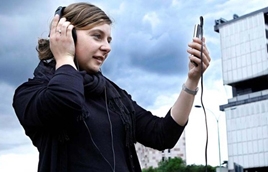 The working group on innovative services aims at improving a wide access to digitised cultural heritage and engaging the user in the innovation process in order to facilitate the reuse and the circulation of content. Content and resources are re-used to propose afterwards new enriched services. The working group has to respond to the users needs, and to foresee the news functionalities to be offered. Cultural heritage and technologies sectors are intersecting always faster and it demands to pay a careful attention in the actual consideration of its end users in the innovation process. Above all, the convergence of these two fields has direct fallouts on the sector of tourism which implies important issues in the field of a sustainable and smart growth.
The working group's objectives are as follows:
• To make it easier to experiment new and innovative digital usages for cultural institutions on site or on the internet
• To promote new approaches of consultation and reuse of digital cultural resources for the general public
• To integrate available content and technologies to create innovative services
• To encourage new partnerships between cultural operators, the research field and the private sector.
• To prepare proposals for response to European calls
To achieve these objectives, the working group carries out the following activities:
• Workshops and training
• Promotion of best practices through the Website project database and the Minerva awards
• Dissemination in publications and conferences
Targeted innovative and cultural services:
• Innovative digital services for guide tours (museums, monuments…)
• Digital system on site: 3D: augmented reality and immersive systems, guide new generation, mobile phone, podcasts
• Web systems: virtual tours, thematic routes, on line services, Web TV
• Services of diffusion of contents of collaborative platforms and social networks
• Services of collaborative indexing on contents on line / tags (genealogy, press)
• Playful services on cultural contents
• Digital services for artistic and cultural education
• Geolocated / accessible in mobility cultural services (on mobile phones or others)
WORKSHOP Virtual exhibitions | Stockholm 23/05/2012
VIDEO Athena Conference | Rome - 16/04/2011

Cultural institutions are increasingly recurring to exhibitions that fall outside the traditional space and time parameters, and are instead staged on IT platforms. Virtual exhibitions are more and more used by museums, holders of cultural funds, as well as artists to diffuse their works. This approach is not new, but the means, technologies and methodology evolve very quickly and allow today the design of new virtual exhibitions.

The workshop will contribute to the sharing of best practices examples and innovative projects on virtual exhibitions.
Navigation
Michael Culture Association | Brussels-Paris-Roma | Tél : +33 (0) 6 31 13 35 74 | contact@michael-culture.eu
By continuing your visit to this site, you accept the use of cookies to enable you to share content via share buttons of social networks and to allow us to measure the audience. For more information and set cookies
For more information you can consult the CNIL website at the following address : http://www.cnil.fr/vos-droits/vos-traces/les-cookies/nIf you do not want to allow us to place these cookies : click here
x