ATHENA PLUS
AthenaPlus - Access to cultural heritage networks for Europeana

AthenaPlus is a CIP best practice network started in March 2013 and ending in October 2015. The consortium is composed by 40 partners from 21 Member States countries.
AthenaPlus will build on the successful experience developed by the previous ATHENA project – where LIDO and the ATHENA Ingestion Server and Mapping Tool (MINT), widely used across the Europeana's ecosystem of projects including the ongoing Linked Heritage project were developed, in order to further advance and complete the effective infrastructure and tools developed to support museums and other cultural institutions in their work to making available digital content through Europeana.
The best practice network created by AthenaPlus is in a strategic position to address this challenge, due to:
its high institutional value (hundreds of European institutions are involved or associated with the project);
the large amount of content made available to Europeana;
the powerful services for institutions to be created by the project;
the new services for specific communities of users and generic citizens.
The principal objectives of the AthenaPlus project are to:
Contribute more than 3.6 millions metadata records to Europeana, from both the public and private sectors, focusing mainly on museums content, with key cultural stakeholders (ministries and responsible government agencies, libraries, archives, leading research centres, SMEs).
Improve search, retrieval and re-use of Europeana's content, bettering multilingual terminology management, SKOS export and publication tool/API for Content Providers;
Experiment with enriched metadata their re-use adapted for users with different needs (tourists, schools, scholars) by means of tools that support the development of virtual exhibitions, tourist and didactic applications, to be integrated into Europeana repositories and the repositories of national aggregators or individual Content Providers.
Partners and contributors : click here
More information: www.athenaplus.eu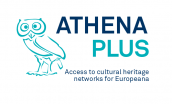 Discover the Athena Plus creative tools :

MOVIO : To create virtual exhibitions
SchoolTrip : To create your own scholar journey
CityQuest : To create a quest online and publish it to a mobile app
eCultureMap : Global geographical interactive knowledge map
Urban Explore : Mobile app for touristic and cultural enriched tours
Open Workshop : Digital Storytelling and cultural heritage for cultural mediation, Education and Tourism
Barcelona, July 2015
European Workshop organized in the framework of AthenaPlus project.
Presentation of tools and projects for digital storytellings, including Athena Plus tools.
Debate on perspectives of DCH in cultural mediation, Education and tourism
Discover Athena Plus TMP2

The Terminology Management Platform 2 (TMP2) is a web portal for thesaurus management. It allows to: • Create and edit thesauri, favouring a conceptual approach; • Specify all types of hierarchical relations (generic, instantial, partitive); • Extend concept information (notes, images etc.); • Manage multilingualism; • Integrate ISO standards 25964-1 and ISO 25964-2 on Thesauri; • Import and export in SKOS, JSON and RDF;
• Map thesauri.
The TMP² is freely accessible (read only) to all the users. User accounts are created for project members and associated organisations
Discover Scent for Glam
Semantic and Collaborative environment for a network of terminologies for the Galeries, Librairies, Archives and Museums.
SCENT is a toolset for creating and managing your terminologies in SKOS format. SCENT has been developed within the eContentPlus AthenaPlus Project.
More information : www.scent-glam.eu

AthenaPlus publication:
eCultureMap: how cultural institutions can benefit from geolocalised content
text by Franc J. Zakrajsek (IPCHS), Vlasta Vodeb (UIRS)
The eCultureMap is created as a simple, interactive geographical map and is ready for use by the general public and professionals on mobile devices as well as on desktops. The booklet presents the guidelines for use and reuse of the eCultureMap content
New vol. of Uncommon Culture
The vol.6 is devoted to virtual exhibition, it's now available on line.
Navigation
Michael Culture Association | Brussels-Paris-Roma | Tél : +33 (0) 6 31 13 35 74 | contact@michael-culture.eu
By continuing your visit to this site, you accept the use of cookies to enable you to share content via share buttons of social networks and to allow us to measure the audience. For more information and set cookies
For more information you can consult the CNIL website at the following address : http://www.cnil.fr/vos-droits/vos-traces/les-cookies/nIf you do not want to allow us to place these cookies : click here
x