RESSOURCES & WORKING GROUPS
Working groups is an approach which has been found to be very successful and suited to the operating of Michael Culture Association. The WG structure is flexible and supports open discussion and exploration, and tends to encourage longer-duration in peer-learning and shared knowledge. Above all, this shared expertise between experts and professionals determines upstream the innovation on services for the general public and specific target groups: research nurtures innovation, and has a direct impact on the new services for the public.
Four working groups are leading a parallel activity of research that end up at innovative services for general public in the field of access to culture, circulation and re-use of the content in Europe. At the same time they actively participate to the developement strategy of the network for a sustainable and integrated activity.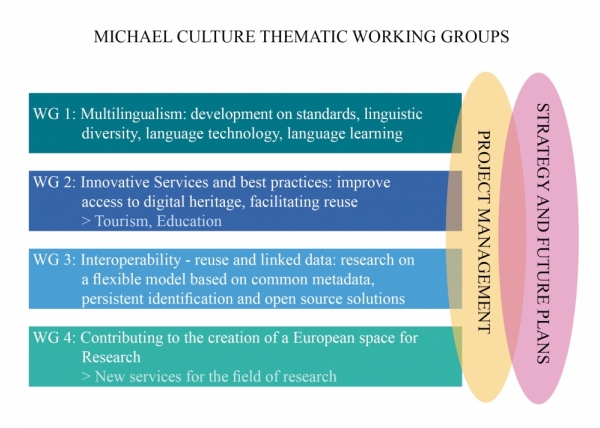 Navigation
Michael Culture Association | Brussels-Paris-Roma | Tél : +33 (0) 6 31 13 35 74 | contact@michael-culture.eu
By continuing your visit to this site, you accept the use of cookies to enable you to share content via share buttons of social networks and to allow us to measure the audience. For more information and set cookies
For more information you can consult the CNIL website at the following address : http://www.cnil.fr/vos-droits/vos-traces/les-cookies/nIf you do not want to allow us to place these cookies : click here
x