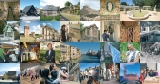 European Union Prize for Cultural Heritage/ Europa Nostra Awards 2018.
15.05.2018
In total 29 winners from 17 countries were selected from 160 applications, submitted by organisations and individuals from 31 countries across Europe. The prize goes to projects in Belgium, Bulgaria, Croatia, Czech Republic, Denmark, Finland, France, Germany, Greece, Italy, Netherlands, Portugal, Serbia, Slovenia and Spain.
Citizens from around Europe and the rest of the world can now vote online - by 10.06.2018 for the Public Choice Award and mobilise support for the winning achievement(s) from their own or another European country.
Read the press release
Read more on the campaign